New Delhi March 30, 2020: Ice cream is the perfect summertime treat that reminds many of us of hot weather, vacations, and leisurely afternoons by the pool.  These 4 ice cream recipes are filled with summer's best flavors and are the perfect way to get ready for the upcoming warm-weathered season. You will need an ice cream maker to prepare these recipes, but when hot weather comes calling, you'll be happy you have it on hand.
1. Quick Coconut Ice Cream with Roasted Cherries
Roasted cherries add a lovely richness to this coconut quintessential summer dessert with tropical flavors. The end result is a treat that is creamy, soft, and surprisingly easy. The cherries take a bit of time to prepare, but we recommend including them — they add a nice pop to the coconut-flavored dish. The Kitchn recommends chilling the separate ingredients for an hour before mixing everything together; it will help the mix be colder, thus enabling it to freeze faster. And trust us — you'll want this ice cream to be ready as soon as possible!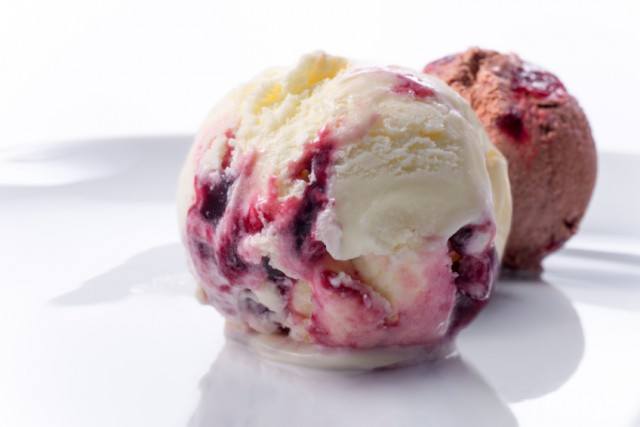 Ingredients
Roasted Cherries
1 pound Bing cherries
2 tablespoons sugar
Coconut Ice Cream
1 (14-ounce) can coconut milk
1 cup cream
1 (14-ounce) can sweetened condensed milk
Pinch salt
¼ teaspoon nutmeg
Directions: Heat the oven to 450 degrees Fahrenheit. Toss the cherries with the sugar and spread them out in one layer on a large baking sheet. Roast for 15 minutes, stirring several times, and watching to make sure the sugar and juices don't burn. Remove from the oven and let cool. Pit the cherries and set them aside.

Whisk together the ice cream ingredients in a large bowl. Make sure the sweetened condensed milk has been thoroughly mixed into the cream.
Put the ice cream mix in your ice cream maker and freeze according to instructions. When the ice cream is the texture of soft-serve, scrape it out and fold in the roasted pitted cherries. Transfer to a bowl or container and cover the ice cream with plastic wrap so that the plastic wrap is in full contact with the surface of the ice cream. Freeze for another 2 hours, or until firm.
2. Limoncello Gelato
Everything about screams summer Lemon liqueur, fresh lemon juice, and vanilla and coffee beans ensure this gelato is bursting with bright flavors. Presentation is everything when it comes to this elegant ice cream, so make sure you scoop it into nice glasses and drizzle with additional limoncello prior to serving. It makes about 4 cups.
Ingredients:
2 cups heavy whipping cream
½ cup whole milk
¼ cup buttermilk
¼ cup mascarpone cheese
4 coffee beans
1 teaspoon finely grated lemon peel
1 vanilla bean, split lengthwise
4 large egg yolks
½ cup sugar
2 tablespoons fresh lemon juice
¼ cup limoncello or other lemon liqueur plus additional for serving.
Directions: Whisk first 6 ingredients in large saucepan. Scrape in seeds from vanilla bean; add bean. Cook over medium-high heat until bubbles form at edges, stirring occasionally. Remove from heat, cover, and let steep 15 minutes.
Whisk egg yolks, sugar, and lemon juice in large bowl until thick and smooth. Slowly whisk warm cream mixture into yolk mixture. Return custard to same saucepan. Stir over medium heat until custard thickens enough to coat spoon and thermometer registers 180 degrees Fahrenheit, about 6 minutes; do not boil. Pour custard into medium bowl. Stir in ¼ cup limoncello. Chill custard until cold, stirring occasionally, at least 4 hours.
Process custard in ice cream maker according to instructions. Transfer to container; cover and freeze up to 2 days. Scoop gelato into glasses. Drizzle with additional limoncello and serve.
3. Strawberry-Rhubarb Ice Cream
It calls for a fruity red wine, but it's easy to turn this ice cream into a kid-friendly dessert. Simply substitute cranberry juice cocktail for the wine, and you'll have a nonalcoholic version kids and adults will love. It makes 10 servings.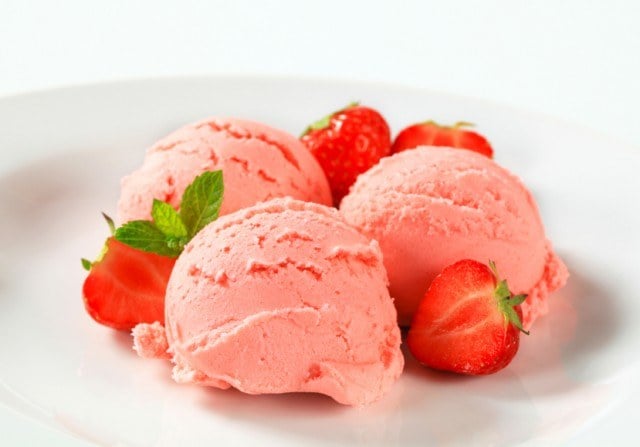 Ingredients:
2½ cups whole milk
¾ cup half-and-half
1 cup sugar, divided
3 large egg yolks
2 cups chopped fresh rhubarb
⅓ cup fruity red wine
3 cups chopped fresh strawberries (about 1 pound)
Directions: Combine milk and half-and-half in a heavy saucepan over medium-high heat. Heat milk mixture to 180 degrees or until tiny bubbles form around edge. Combine ½ cup sugar and egg yolks in a large bowl, stirring with a whisk until pale yellow. Gradually add half of hot milk mixture to egg yolk mixture, stirring constantly with a whisk. Pour the egg yolk mixture into pan with remaining milk mixture; cook over medium-low heat until a thermometer registers 160 degrees Fahrenheit, stirring constantly.
Place pan in a large ice-filled bowl for 20 minutes or until custard cools completely, stirring occasionally. Combine remaining ½ cup sugar, rhubarb, and wine in a saucepan over medium-high heat; bring to a boil. Reduce heat, and simmer 8 minutes or until rhubarb is tender and liquid is syrupy. Remove from heat; let stand 10 minutes. Combine rhubarb mixture and strawberries in a blender; process until smooth. Strain mixture through a sieve over a bowl, pressing with a wooden spoon; discard solids. Stir rhubarb mixture into custard mixture.
Pour custard into the freezer can of an ice-cream freezer; freeze according to manufacturer's instructions. Drain ice water from freezer bucket; repack with salt and ice. Cover with kitchen towels, and let stand 1 hour or until firm.

4. Peach-and-Toasted Pecan Ice Cream
Filled with sweet and salty flavors, this rich ice cream treat will make you forget about summer's sweltering heat.
Ingredients:
¾ cup sugar
2 tablespoons cornstarch
⅛ teaspoon table salt
2 cups milk
1 cup heavy whipping cream
1 egg yolk
1½ teaspoons vanilla bean paste
1 cup peeled and coarsely chopped peaches
2 tablespoons light corn syrup
1½ tablespoons butter
1 cup coarsely chopped pecans
¼ teaspoon kosher salt
Directions: Whisk together first 3 ingredients in a large heavy saucepan. Gradually whisk in milk and whipping cream. Cook over medium heat, stirring constantly, 10 to 12 minutes or until mixture thickens slightly. Remove from heat. Whisk egg yolk until slightly thickened. Gradually whisk about 1 cup hot cream mixture into yolk. Add yolk mixture to remaining cream mixture, whisking constantly. Whisk in vanilla bean paste. Cool 1 hour, stirring occasionally.
Meanwhile, cook peaches and corn syrup in a small saucepan over medium heat, stirring often, 4 to 5 minutes. Coarsely mash, and let cool 30 minutes. Stir peach mixture into cooled cream mixture. Place plastic wrap directly on cream mixture, and chill 8 to 24 hours.
Meanwhile, melt butter in a small skillet over medium heat; add pecans, and cook, stirring constantly, 8 to 9 minutes or until toasted and fragrant. Remove from heat, and sprinkle with ¼ teaspoon kosher salt. Cool completely.
Pour chilled cream mixture into freezer container of a 1½-quart electric ice-cream maker, and freeze according to manufacturer's instructions. Before transferring ice cream to an airtight container for further freezing, stir in pecan mixture.